We were recently contact by a representative from DMG regarding their product call Icon.
The product was originally developed for treating interproximal caries, (decay between the teeth to me and you)
however they noticed that is also had more of a cosmetic use as well.
Many people including myself have white spots on their teeth. Mine, I have no idea where it came from I've just always had it and was a bit of a clumsy child so just assumed it was trauma and there wasn't much to be done about it unless I wanted a veneer or filling.
My tooth is healthy therefore drilling a healthy tooth seems somewhat wrong.
The cosmetic use is for vestibular treatment, therefore it can be applied directly to a white spot to change how light reflects on the defect therefore diminishing the appearance of the white spot. I basically wanted to try this to improve my white spot and considering mine was pretty large and very milky in colour, it made the rest of my teeth seem very yellow. Below is a photo of my front teeth prior to the treatment.
The procedure is as follows
A mouth prop is placed to retract the soft tissues of the mouth, a rubber dam barrier between the tooth and the soft tissues is placed. This stops any of the products coming into contact with the soft tissues of the mouth.

The Icon Etch is then placed on the tooth area and left for two minutes, until rinsed off and the tooth is dried, this process may be repeated 3-4 times depending on how deep the defect is within the tooth. Air abrasion may also be used to gain better access before etching. In my case air abrasion was used.

Once the defective area is exposed the Icon dry is placed to see if the tooth has been etched enough. If the defect is non visible then it is time to place the Icon Infiltrant and to let set for 3 minutes. If not then the etch process may be repeated.

Then the tooth is highly polished, additional composite material may need to be applied depending on how deep the defect was.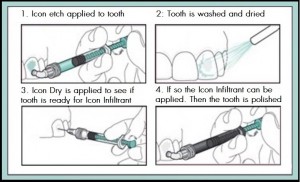 After this process which took around an hour including the polishing of the tooth surface. The results straight after the treatment are  shown below.

I was very pleased with this result, however the full effect of the product does not show until 2 weeks after, where it is recommended to give and secondary tooth surface polish. During this two week period it is not recommended to whiten the teeth as the product may take up staining.            

As you can see this is quite a dramatic change and did not require any filling material to smooth the surface.
This is a great result to book in for a consultation please call us on 01233 639289