Meet the A-team
The highly experienced professional care team are selected based on their positive values and attitudes which focus on a friendly professional service based on having a healthy, productive lifestyle and wellbeing as cornerstones of our care.
All our independent interdisciplinary dentists' commitment to the rules governing the profession under strict guidance from the General Dental Council (GDC) "Standards for Dental Professionals".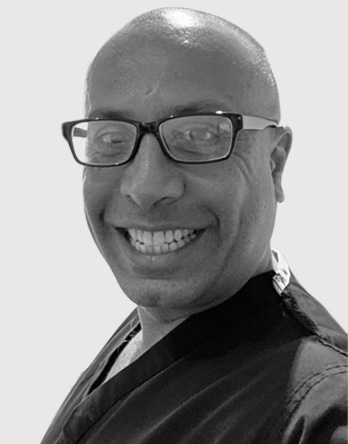 BDS(Guys 1995), MClinDent(Prosth 2002), PGCert(Ed), PGCert(Rest) PGDip (Implant Surgery)
GDP - (Practitioner & Clinician) - Minimally Invasive (MI)Surgeon Dentist with special interests, expertise and experience in Comprehensive Restorative Dentistry including Aesthetics, Integrated Care, Regenerative Care/MI/Preservation, Perio-Dental-Implant-Prosth interface, Ortho-Restorative-TMJ Integration and Sedation/Mindset/Phobias/PainPoints.
GDC No. 071059
Dipesh is a professional family-friendly Dentist to help restore, value, and share your smile through and for life. (With Grit and Joy). He qualified from Guys and St Thomas Hospital, UMDS London with The Dickinson Trust award and Ronald Gain Prize. Completing his UK VT training in North London and completed his research project at Harvard Dental School, Boston, USA. He further gained more advanced restorative training at the Eastman Hospital in London.
He completed his American National Boards Part 1 and 2 and California Bench Exams at UOP, Loma Linda, and UCLA. He went on to complete a 4 year Masters (MClinDent(Prosth) in Prosthodontic/Clinical Dentistry at King's College , London. After several years in both general and pioneering aesthetic private practice, he has gained and continues to experience further insight, and professional development in Stomatology, Functional Occlusion, restorative, surgical, orthodontic, healthcare technology and implant dentistry from International Experts/Specialists in these disciplines from the UK, USA, Sweden, Finland, France, Netherlands, Belgium, Spain, Germany, Poland, Italy, India, China, South Korea, South America, Russia and Japan.
He has been practising dentistry in the UK for the past 25 years, and was a Clinical & Academic tutor on the Integrated Clinical Skills Programme in the Department of Conservative/Restorative Dentistry and the Division of Tissue Engineering at Guys NHS Teaching Hospital, preparing undergraduates for a period of 15 years for Clinical Practice and was an Examiner and Supervisor on the Postgraduate MSc Aesthetics and Advanced Minimally Invasive Dentistry at Guy's Campus - King's College London.
Mr Patel focuses his practice on simplifying complex and comprehensive dental care and using precision medicine and surgery (modern diagnostic and minimally invasive/biomimetic technology in both Aesthetics, Augmented technology) to address PainPoints/Phobias/Fears. He translates his technical and artistic skills to help work with his patients to create, restore, monitor and maintain healthy, happy, functional and aesthetic smiles throughout life.
Mr Patel is always happy to discuss any concerns and you may have in an informal friendly and approachable way. He will endeavour to find the best solution for your oral health at a budget you can manage.
Mr Patel is a family man married to Roma with two children, a tortoise, a fish and a Dog called Rex! He enjoys Friendly and Competitive Sports, Mind Sciences, Good Tunes, Innovation that serves and good old fashioned values with Great food and drink with friends and colleagues.
Dipesh currently pitches in with mindset/physical development, health/safety and first aid for the Under 16s Rugby Union at Ashford RFC where he has gained a Level 1 in Rugby Coaching and continuous RFU CPD.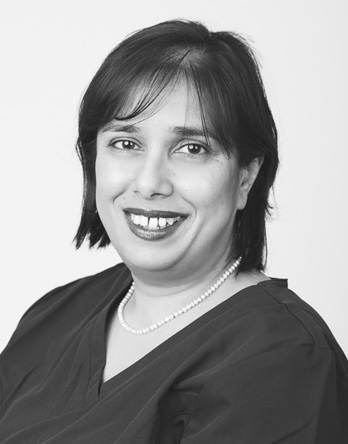 BDS (Shef 1993)
Dental Practitioner with special interests and expertise in Facial beauty treatments and Adult and Children's Dentistry, Dental Surgeon
GDC No. 69659
Roma qualified from Sheffield University in 1993 and was awarded the bachelor of Dental Surgery and the bronze medal in Paedatric care, as well as the best vocational trainee project in 1994. Roma continued her postgraduate education with the famous UCLA residency Restorative Programme in the United States prior to returning back to life in the rural village of Wye in Kent. Roma aims to share her abilities and enthusiasim with others so she may help them improve their oral care. Her philosophy is to acheive health, function and confidence in the dental health of her patients
Roma is always happy to help with any queries or requests. With extensive experience and numerous qualifications, Roma is delighted to guide you through what cosmetic and facial aesthetic dentistry can do for you.
Very approachable and always welcoming, Roma is here to make sure your experience at Ashford Dental is both enjoyable and exciting.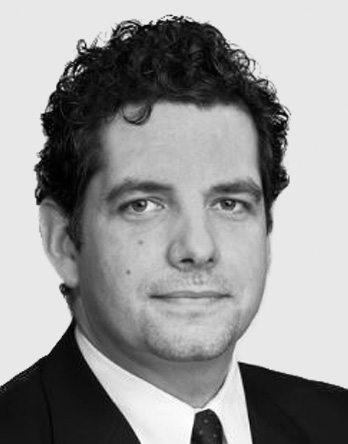 (Dip Dent Pisa 1997) Dental Surgeon
Special interest and expertise in Adult & Children Fixed Orthodontics and Endodontics
GDC No. 74087
Marco was born on the island of Elba, Italy. He graduated with a degree in Dentistry and Dental Prosthodontics from the University of Pisa, School of Dentistry in November 1997. Marco qualified as an Orthodontist from the Centro Studi e Ricerche di Ortodonzia La Spezia in March 2004 and was awarded a Diploma in Orthodontics from the University of Bourgogne in France. In addition, he has completed several postgraduate courses covering topics such as occlusion, endodontics and implantology. He has a special interest in endodontics and is an accredited trainer for a leading dental company.
At present, he consults in various practices in Harley Street in London, Kent and Sussex, as well as in practices in Pisa and Milan. He also teaches and lectures to dental students at King's College Dental Hospital in London, and he is involved in the organization of postgraduate courses for dentists. Marco's interests include travelling, music, skiing and computing.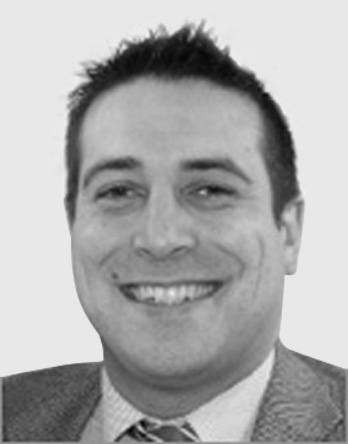 Dip Clin Tech RCS Eng 2015 Qual – National Diploma in Science (DT) BTEC 2002 Clinical Dental Technician GDC No. 142513 MHRA 4273
James qualified in 2002 as a Dental Technician at Lambeth College where he was awarded a BTec Diploma in Dental Technology. James completed his Clinical Dental Technology Degree via the Kent, Sussex & Surrey Deanery in 2015. James is registered with the General Dental Council and is a member of the British Association of Clinical Dental Technicians.
James has been working with dentures since 1998 and is highly experienced in providing dentures to his patients by giving advice in a friendly, caring and professional manner. James' advanced knowledge helps him solve even the most challenging of denture problems and offers that much needed reassurance that the dentures he creates will more than meet with his patients' expectations.
James takes great satisfaction and pride from seeing the difference that his work can make to patients.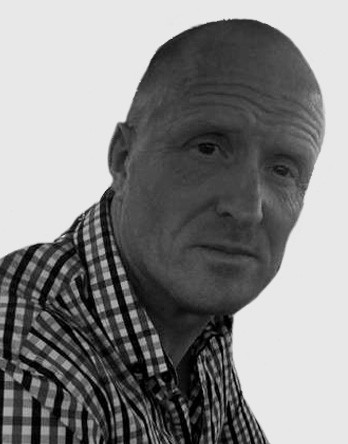 Dental Hygienist
Dip Dent Hygiene RCS (Edin 2002)
GDC No. 6063
He is an excellent hygienist who strives to provide clinical excellence within a caring environment.
Not only will he address your problem but show you how to improve and maintain your gum health.
Biography
Paul trained at the Defence Dental School in 2000 where he achieved the Oral B Outstanding Academic Achievement Award
Following this he worked within the Army in Germany, Northern Ireland and other parts across the U.K.
Paul has worked with other specialists such as Orthodontists and Periodontal Specialists so can handle complex cases.
Paul's other responsibilities also included managing trainee dental nurses and auditing all military hygienists within Germany. Monitoring Hygienists meant Paul as the Lead Clinician annually reviewed working practices and clinical efficiency to ensure standards were maintained and good levels patient care was being carried out.
As part of on-going training Paul has also recently qualified to carry out In-surgery tooth whitening.
Paul is married with 3 children.
Hobbies:
He is keen on fitness and is an athletics coach.
Qualified Dental Nurse
NEBDN 2010
GDC No. 200818
Coming soon...

Qualified Dental Nurse
GDC No. 276941
Coming soon...