We have some new exciting products on sale in our surgery from Curaprox.
Curaprox are a Swiss brand that are currently popular in Europe and are trying to establish their brand more in the U.K.
They are not currently available to buy on the high street or in supermarkets.
Here are the products we currently stock and a brief description from Curaprox.
Enzycal Toothpaste

Enzycal is a low fluoride toothpaste containing 1450 parts per million sodium fluoride.  It claims to contain three enzymes that strengthen the body's own antibacterial salivary system. It is A mild toothpaste that is Sodium Lauryl Sulphate free for those who suffer from allergies, sloughing of the gums or lips. The product claims to reduce mouth ulcers by 45%.
Curasept ADS 705 Toothpaste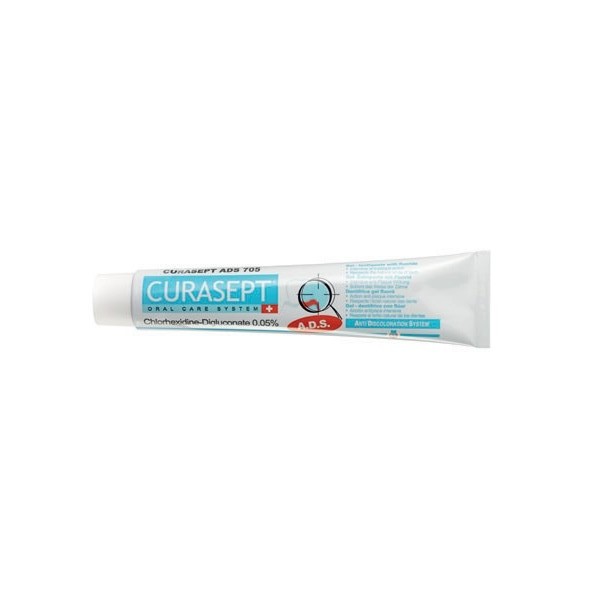 Contains 0.05 % Chlorhexidine, 0.05 % Fluoride and is a Sodium Lauryl Sulphate Free toothpaste.  This toothpaste is ideally suited for use with a chlorhexidine rinse for added caries protection.
This tooth paste claims to contain an Anti-discoloration system which will reduce the incidence of discoloration and taste disturbance. The paste is more of a gel consistency and is suitable for daily use  and states it has no burning or irritant effect due to the absence of alcohol.
Curasept ADS 350 Gel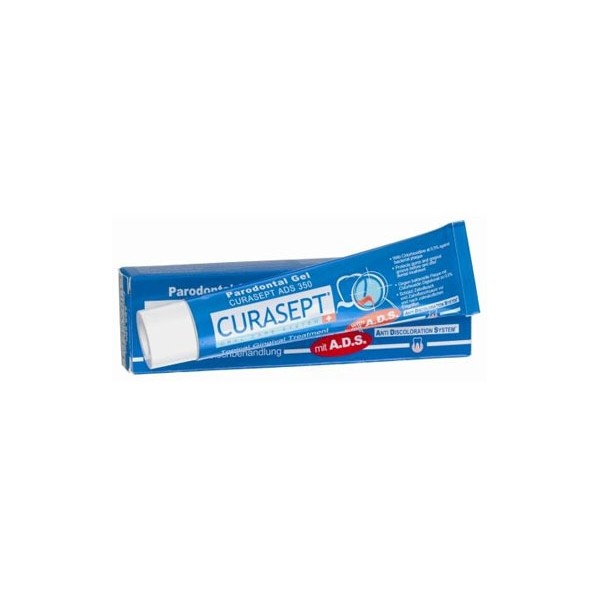 Gingival (gum) gel for application topically. The protects states it protects and maintains gum and fights against plaque and bacteria.
It also contains the Anti- discoloration system. However this is not recommended for use for more than 10 days.
Curasept  ADS 220 Mouthwash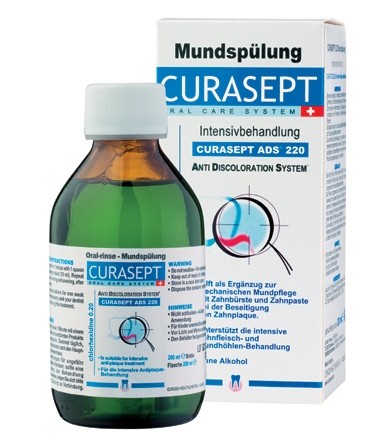 Containing the Anti-discoloration system which is claimed to reduce the amount of potential discolouring effects associated with the use of regular use of Chlorhexidine mouth rinses. Claims to slow the formation of plaque and prevent gum and mouth irritations. It is anti-bacterial and contains no alcohol.
Curaprox 5460 Ultra Brush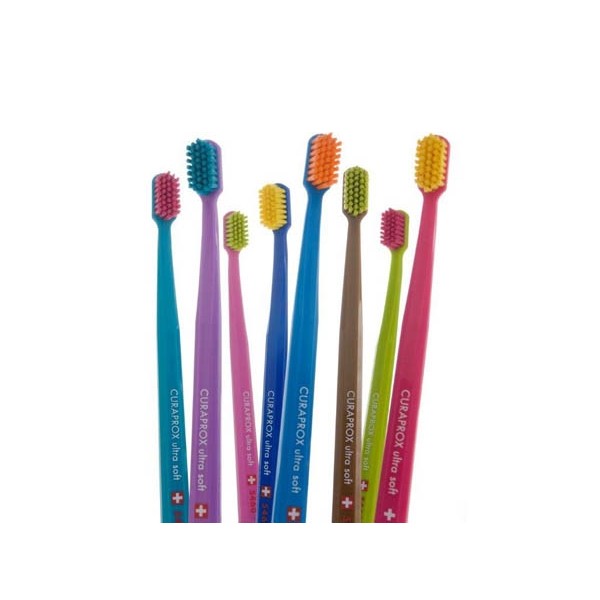 This is comprised of their patented Curen® which states that even when wet the bristles still retain their firmness. Therefore the filaments are finer for deep gentle brushing.  The filaments are soft as to reduce the amount of abrasion from heavy brushing. The head is already angled at 45 degrees towards the gum line making brushing technique easier. The brushes come in many assorted colours.
Curaprox Surgical Mega soft brush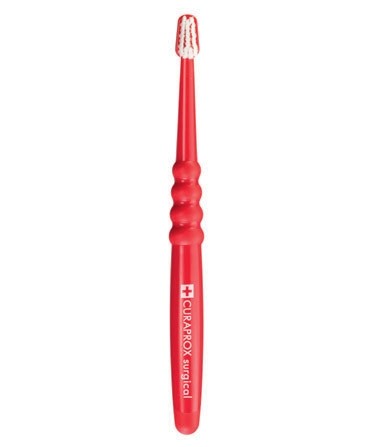 This brush is also comprised of Curen® and is recommended by Curaprox for those after oral surgery or radiation treatment where conventional toothbrushes are too harsh and damaging to the soft tissues in the mouth.
This is recommended as a temporary brush for use during the healing period to encourage cleaning of tender areas while minimising pain and discomfort to the patient.
Curaprox 457 Pocket set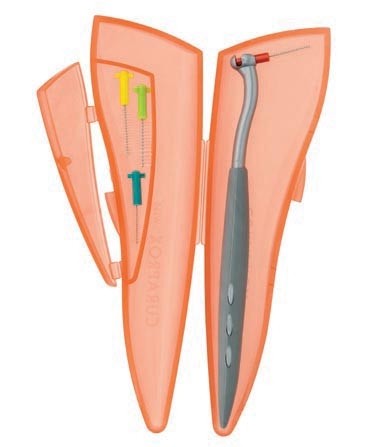 Is an interdental set containing 4 prime interdental brushes that click into place on the UHS 450 holder.  The set comes in a discrete box so it is easy to carry around with you. The primes interdental brush heads have a ultra-thin Cural® surgical wire which is nickel free therefore suitable for allergy sufferers. The product boasts ultrafine bristles that  have an umbrella  affect which fills and cleans in the gaps between the teeth.  Curaprox believes the conical design of the wire core prevents early breakage and increase the lifespan of the brush head.
Refill sets are available in various different sizes.  It is best to consult your Dentist or Hygienist which interdental is suitable for you.
All these products are available to buy at our surgery but it is important to first discuss which products are suitable for your needs as every patient and mouth is different.  Your  Dentist or Hygienist will discuss your homecare routine and prescribe the products best  suited to you. The information above is provided by Curaprox and only serves as a guideline. More information can be gained by visiting.