We all know that sometimes parking can be a problem, especially when you have somewhere to be.
We at Ashford Dental Care would like to help our patients as much as possible and reduce the headache and worry involved with finding us. Click our postcode to find us  TN23 1JJ. In the event that Satellite navigation fails and cannot seem to find our road try TN23 1YB instead which is the postcode of County square the main shopping center.
We are located centrally on the upper high street next to the The Music shop, diagonally opposite Argos and opposite to The Royal Bank of Scotland and Ashford Sewing shop  and in easy walking distance from most of the local car parks around and within the Town Center.
In an effort to make life easier for our patients and those visiting our practice, below is a map of the stores in Ashford in relation to parking and our practice. We have conducted our own research so that you can plan your visit. A map has been included below showing the nearest car parking opportunity available. We recommend you allocate more than your appointment time so you do not incur any charges in the unlikely event that the surgery is running unexpectedly late.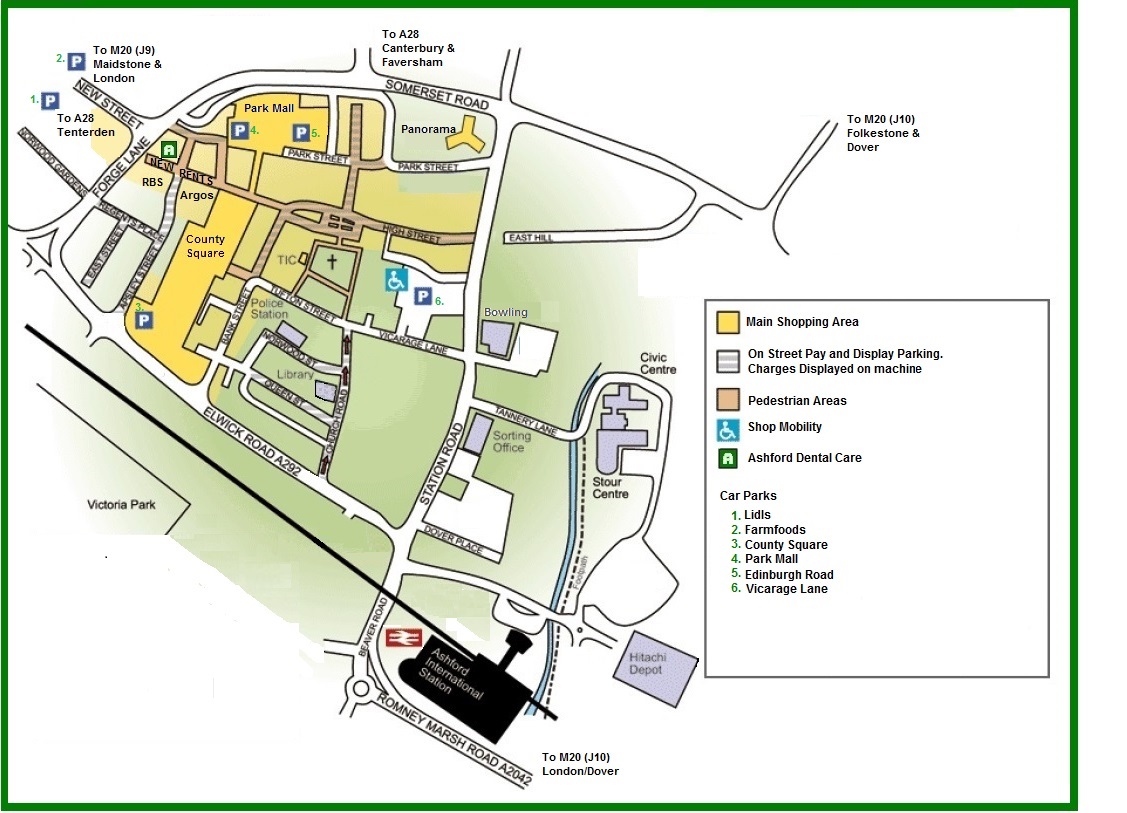 Below are the postcodes and the approximate rates, however I would suggest taking more change just in case the parking has increased since the time of this blog.  The postcodes have been included so that satellite navigation systems can be used. However I cannot guarantee the accuracy of Sat Nav.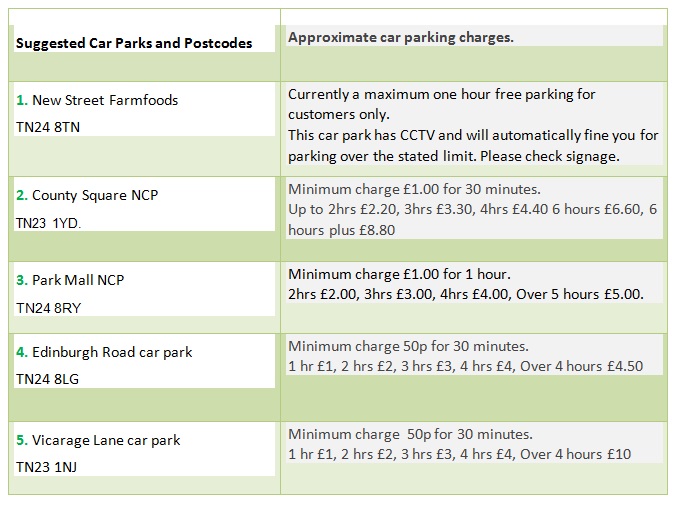 Your can also pay online or via your mobile. There are two different apps for this which can be downloaded to your mobile from the app store. 
The first app is Parkmobile and this operates in the below locations in association with Ashford Borough Council . You can register your card and pay via the app or by calling the number and registering. The phone number is 020 3003 2523. They have locations both within car parks and on the road. However there is a no guarantee a space will be available.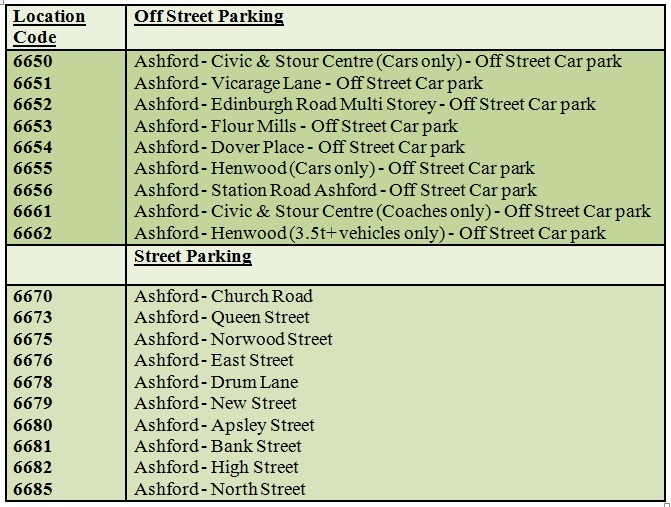 There is also Ringo on 02030460010, an app is also available.
This only operates in the Park Mall Car Park, this is location 9232
Appointment lengths are approximately as follows-
Examination – 30- 40mins
Scale and Polish- 30- 40 mins.
Periodontal Consultation- 1 hour
Fillings and Restorative appointments- 1 hour and over depending on how much treatment is required this will be explained to you at your examination appointment.
The above all serves as a guideline so that you can plan your visit to us.
This information was correct on the 4/02/2014 however prices and time restrictions are subject to change,
Ashford Dental Care is not responsible for vehicles left in parking areas, and are left at your own risk.
Please check all signage, we would not want you to incur any penalty charges.
All information is provided by Ashford Borough Council or the NCP website and can be viewed on the links below.
http://www.ashford.gov.uk/ashford-town-parking
http://www.ncp.co.uk/find-a-car-park/car-parks/ashford-park-mall
http://www.ncp.co.uk/find-a-car-park/car-parks/ashford-county-square/