Commitment & Application Matter
Home Care
Education, Brushing / Flossing, Tepe, Disclosing
What is Good Oral Hygiene?
Good oral hygiene results in a mouth that looks and smells healthy. This means:
Your teeth are clean and free of debris
Gums are firmly held against teeth and do not hurt or bleed when you brush or floss
Bad breath is not a constant problem
If your gums do hurt or bleed while brushing or flossing, or you are experiencing persistent bad breath, see your dentist. Any of these conditions may indicate a problem.
Your dental professional can help you learn good oral hygiene techniques and can help point out areas of your mouth that may require extra attention during brushing and flossing.
How Is Good Oral Hygiene Practiced?
Maintaining good oral hygiene is one of the most important things you can do for your teeth and gums. Healthy teeth not only enable you to look and feel good, they make it possible to eat and speak properly. Good oral health is important to your overall well-being.
Daily preventative care, including proper brushing and flossing, will help stop problems before they develop and is much less painful, expensive, and worrisome than treating conditions that have been allowed to progress.
In between regular visits to the dentist, there are simple steps that each of us can take to greatly decrease the risk of developing tooth decay, gum disease and other dental problems. These include:
Brushing thoroughly twice a day and flossing daily
Eating a balanced diet and limiting snacks between meals
Using dental products that contain fluoride, including toothpaste
Rinsing with a fluoride mouthrinse if your dentist tells you to
Making sure that children under 12 drink fluoridated water or take a fluoride supplement if they live in a non-fluoridated area.
Proper Brushing Technique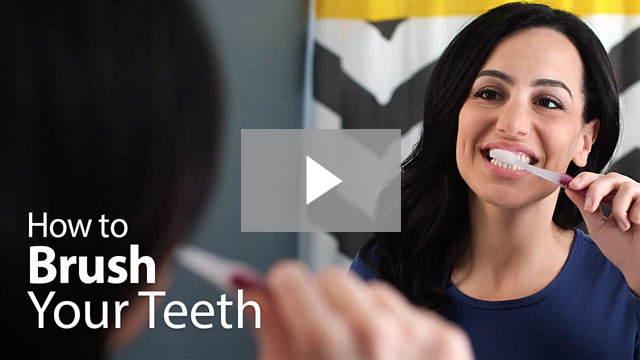 Tilt the brush at a 45 degree angle against the gumline and sweep or roll the brush away from the gumline.
Gently brush the outside, inside and chewing surface of each tooth using short back-and-forth strokes.
Gently brush your tongue to remove bacteria and freshen breath.
Proper Flossing Technique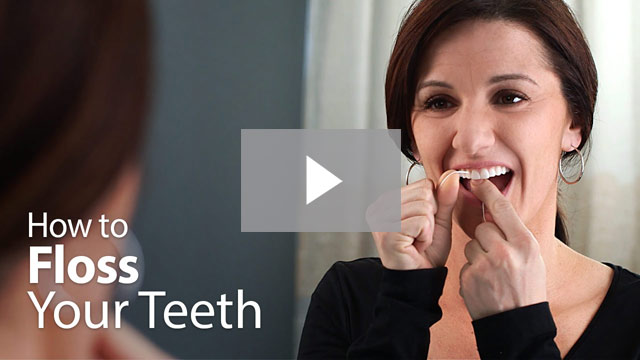 Use about 18" of floss, leaving an inch or two to work with.
Gently follow the curves of your teeth.
Be sure to clean beneath the gumline, but avoid snapping the floss on the gums.
You should always use fluoride toothpaste as fluoride makes teeth stronger and more resistant to acid attacks. This in turn helps to prevent tooth decay.
Why Brush?
Brushing your teeth combats plaque, which builds up daily on the teeth. Removing plaque not only makes your teeth feel clean, but also helps to prevent bleeding gums, and makes your breath fresher too.
How Often?
Try to brush in the morning and last thing at night. In the morning, this will make your mouth feel clean and fresh. At night, brushing is especially important as it protects teeth against acid attack while you are asleep.
Which Toothbrush?
Choose a soft or medium (not hard) brush with a small head so that you can reach all those difficult corners. Replace your brush once it has become worn, as a worn brush will not clean your teeth properly.
How to Brush
Place the bristles of the toothbrush where the teeth and gums meet.
Then, move the toothbrush back and forth using small, gentle movements to remove plaque from the gum region where it collects
Hold the toothbrush like you would a pen, so that you don't brush too hard. Use a finger grip, not a fist grip.
Don't hurry. Make time to clean every tooth surface and make sure you don't miss anywhere.
Always remove partial dentures and braces before you brush and clean them separately.
Check With the Experts.
Your dentist or hygienist can check that you are cleaning your teeth properly and can remove any tartar that may build up on your teeth and brushing can't remove. They will be able to advise you whether you need dental floss or other special cleaning aids.
Diet
Every time you eat or drink anything sugary, your teeth are under acid attack for up to one hour. This is because the sugar will react with the bacteria in plaque (the sticky coating on your teeth) and produce the harmful acids. So it is important to keep sugary foods only to mealtimes, limiting the amount of time your mouth is at risk.
Acidic foods and drinks can be just as harmful to your teeth. The acid erodes the enamel, exposing the dentine underneath. This can make the teeth sensitive and unslightly.
A diet that is rich in vitamins, minerals and fresh produce can help to prevent gum disease. Gum disease can lead to tooth loss and cause bad breath. The diagram below is a good example of what you should eat as part of a healthy and balanced diet.
It is better for your teeth and general health if you eat 3 meals a day instead of having 7 to 10 snack attacks. If you do need to snack between meals, choose foods that do not contain sugar. Fruit does contain acids, which can erode your teeth. However, this is only damaging to your teeth if you eat an unusually large amount.
If you do eat fruit as a snack, try to eat something alkaline such as cheese afterwards. Savoury snacks are better, such as:
The main point to remember is that it is not the amount of sugar you eat or drink, but how often you do it. Sweet foods are allowed, but it is important to keep them to mealtimes.
To help reduce tooth decay, cut down on how often you have sugary snacks and drinks and try to sugar-free varieties confectionery and chewing gum containing Xylitol may help to reduce tooth decay.
Sugary foods can also contribute to a range of health problems including heart disease and being overweight.
Still water and milk are good choices. It is better for your teeth if you drink fruit juices at meal times. If you are drinking them between meals, try diluting them with water.
Diluted sugar-free squashes are the safest alternative to water and milk. If you make squash or cordial, be sure that the drink is diluted 1 part cordial to 10 parts water. Some soft drinks contain sweeteners, which are not suitable for young children ask your dentist or health visitor if you are not sure.
Fizzy drinks can increase the risk of dental problems. The sugar can cause decay and the acid in both normal and diet drinks can dissolve the enamel on the teeth. The risk is higher when you have these drinks between meals.
You can use a floss holder or an interdental cleaning aid. Interdental cleaning aids include woodsticks or small interdental brushes used to remove plaque from between the teeth. Your dentist or hygienist can explain how to use these properly.
Related Oral Hygiene Articles
Back to Treatment
Book an Appointment