Smiles & Grit Matter
Discolouration & Staining
Teeth enamel discoloration can be caused by staining, tooth decay, aging, old amalgam fillings ,dietary and smoking habits which can damage the teeth. Some of the more common causes of teeth discoloration are medications, coffee, tea or cigarettes.
Aside from staining, there are other factors that can affect the color of an individual's teeth. Genetics can play a role. Some people have naturally brighter enamel than others. Disease can also be a factor and certain medications can cause a discoloration of the teeth.
Several Solutions depending on the underlying cause includes
Cleaning/Polishing
Bonding/Laminates
Bleaching - Home
In surgery
Hybrid
Veneers Inlays Crowns
Scaling and Polishing regularly by your dentist or hygienist helps keep your teeth and gums healthy and your smile whiter. Scaling removes the hard tartar which cannot be removed by brushing. Stains from coffee, tea, cigarettes or red wine are removed with the polishing. We provide sodium bicarbonate-based jet polishing on a private basis which is used for extremely stained or smokers teeth.
Bonding can mask many types of stains to create a natural-looking and attractive smile. However, bonded teeth tend to stain easily and require periodic repair. Bonding may be the best option if you:
Have white or brown spots or staining due to excessive wear or silver fillings
Are not a heavy smoker or coffee drinker
Are willing to take extra care of your new smile
Want a less expensive and less invasive option (compared with porcelain veneers or crowns)
Bleaching: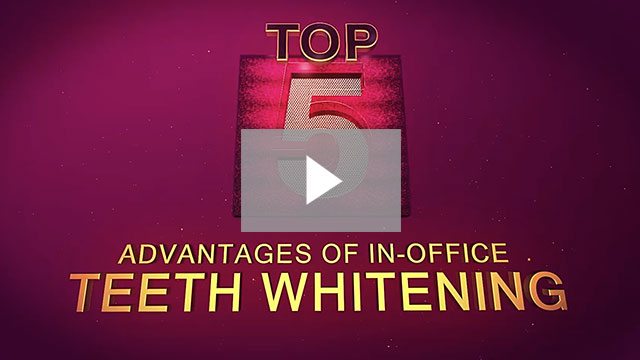 Although the average treatment time is about 4 to 6 weeks, you may notice results after just a few days.
If you have decay, be sure to have your teeth treated prior to bleaching.
Patients who are not good candidates for in office bleaching because of tooth sensitivity, time restrictions, or financial considerations can often be helped with home bleaching.
For most patients, a combination of home and in office bleaching yields the best results.
You may need a "touch-up" bleaching session every 6 to 12 months.
Do not use any home bleaching product if you are pregnant or nursing a baby.
Home bleaching can have adverse side effects, including tooth sensitivity, a burning sensation and sores on the gums and sore throat
Polishing

Bleaching
Bonding
Porcelain Veneers
Crowns

Treatment Time

Usually a 15- to 30- min appointment

In office: 1-3 treatments as needed, about 30-90 min each

Home: Daily for 1-12 mo, depending on stain severity

1 office visit

2 office visits, 1-4 hours each

Usually 2 office visits of 1-4 hours each for up to 4 teeth (more time needed for additional teeth, esthetic temporaries, or more extensive treatment)

Maintence

Have a professional cleaning 4-6 times per year

Brush thoroughly after meals to remove plaque.

Avoid smoking and stain-causing foods (e.g., coffee and tea).

Have a professional cleaning 3-4 times per year.

Have a professional cleaning 3-4 times per year.

Avoid use of ultrasonic scalers and air abrasives during hygiene office visits.

Avoid biting down with front teeth, especially on hard foods.

See dentist for polishing or repair as necessary.

Have a professional cleaning 3-4 times per year.

Avoid use of ultrasonic scalers and air abrasives during hygiene office visits.

Take special care when biting into or chewing hard foods.

See dentist for resealing of margins as needed.

Avoid biting down on hard foods and ice.

Reduce intake of refined sugars.

Have a professional cleaning at least 3-4 times per year and yearly fluoride treatment.

Ask your dentist to recommend a fluoride toothpaste and mouthwash for home use.

Floss at least once daily.

Results

Surface stains easily removed

Deep yellow stain can be considerably lightened; brown and gray stains are much more difficult to bleach.

Immediate masking of stains

Glazed, natural appearance and effective masking of stains.

Can achieve the best results in tooth shade, shape, and size.

Treatment Longevity

Usually 2-6 mo

Indefinite, although annual touch-ups may be required.

3-8 years; may need repair or replacement more frequently

5-12 years

6-15 years (directly related to fracture, problems with tissues, and decay)

Advantages

Least invasive procedure.

Can be least expensive option

Painless

Safe

No tooth reduction required

Safe

Usually painless to adults

No tooth reduction required

No anesthetic required

Less expensive than many other options

Painless

Results obtained in 1 appointment

Little or no tooth reduction required

Generally no anesthetic required

Less expensive than porcelain veneers or crowns

Easy to repair

Less chipping than bonding.

Extremely good bond to enamel.

Minimal staining and loss of color or luster.

Less tooth reduction required than crowning.

Lasts longer than bonding.

Gum tissue tolerates porcelain well.

Generally no anesthetic required.

Color change is possible.

Teeth can be lightened to any shade.

The dentist can improve shape of teeth.

Some realignment or straightening of teeth is possible.

Last longer than any other restoration.

Disadvantages

May not remove stains enough to please you

Natural tooth color may not be restored.

Can cause discomfort if large tooth pulp present.

Only 85% effective in selected cases.

Extended treatment time may be necessary.

May not achieve the whiteness you desire.

Can chip or stain.

Has a limited esthetic life.

May not cover dark stains well.

May involve minor tooth reduction to remove some of the stains.

Gum irritation may occur if margins are imperfect.

More expensive than bonding.

Difficult to repair if the veneer cracks or chip.

Irreversible if much enamel is removed.

Staining may occur between teeth, depending on how the veneer is prepared.

Margins may "wash out" and require repair.

Can fracture.

Require an anesthetic.

Tooth form is altered (most of the tooth enamel is removed).

Unsightly line may appear at junction between tooth and crown if tissue shrinkage occurs.

Much more expensive than bonding.
Icon Treatment
We were recently contact by a representative from DMG regarding their product call Icon.
The product was originally developed for treating interproximal caries, (decay between the teeth to me and you)
however they noticed that is also had more of a cosmetic use as well.
Many people including myself have white spots on their teeth. Mine, I have no idea where it came from I've just always had it and was a bit of a clumsy child so just assumed it was trauma and there wasn't much to be done about it unless I wanted a veneer or filling.
My tooth is healthy therefore drilling a healthy tooth seems somewhat wrong.
The cosmetic use is for vestibular treatment, therefore it can be applied directly to a white spot to change how light reflects on the defect therefore diminishing the appearance of the white spot. I basically wanted to try this to improve my white spot and considering mine was pretty large and very milky in colour, it made the rest of my teeth seem very yellow. Below is a photo of my front teeth prior to the treatment.

The procedure is as follows
A mouth prop is placed to retract the soft tissues of the mouth, a rubber dam barrier between the tooth and the soft tissues is placed. This stops any of the products coming into contact with the soft tissues of the mouth.
The Icon Etch is then placed on the tooth area and left for two minutes, until rinsed off and the tooth is dried, this process may be repeated 3-4 times depending on how deep the defect is within the tooth. Air abrasion may also be used to gain better access before etching. In my case air abrasion was used.
Once the defective area is exposed the Icon dry is placed to see if the tooth has been etched enough. If the defect is non visible then it is time to place the Icon Infiltrant and to let set for 3 minutes. If not then the etch process may be repeated.
Then the tooth is highly polished, additional composite material may need to be applied depending on how deep the defect was.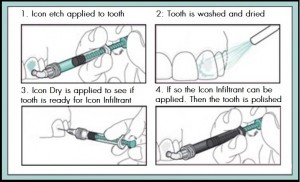 After this process which took around an hour including the polishing of the tooth surface. The results straight after the treatment are shown below.

I was very pleased with this result, however the full effect of the product does not show until 2 weeks after, where it is recommended to give and secondary tooth surface polish. During this two week period it is not recommended to whiten the teeth as the product may take up staining.

As you can see this is quite a dramatic change and did not require any filling material to smooth the surface.
This is a great result to book in for a consultation please call us on 01233 639289
Related Teeth Whitening Articles
Back to Treatment
Book an Appointment